Top
Banana bread
Published 24 Sep 2014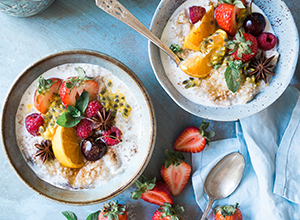 Category : Gluten-free
Type : Snack
Difficulty : Beginner
Directions : 5 minutes
Cooking time : 40 minutes
Price range : Cheap
Ingredients 6 Number of people
3 bananas, mashed (preferably brown)

4 tbsp maple syrup

1 teaspoon vanilla extract

3 eggs

1/2 cup almond butter (I'm sure another nut-butter could work too)

1/2 cup coconut flour

1/2 cup of lin seeds

½ teaspoon baking soda

½ teaspoon baking powder

1 teaspoon cinnamon

a pinch of salt
Directions
Preheat oven to 190 degrees. Cover an 8.5×4.5 baking dish with parchment paper. (I usually use a loaf pan)

In a large bowl, mix together bananas, maple syrup, vanilla extract, eggs, and almond butter.

Add coconut flour, baking soda, baking powder, cinnamon, salt and mix well.

Pour batter into baking dish. There should be room for it to rise to double height.

Place in oven to bake for roughly 40 minutes.

Remove from oven, place on cooling rack and let rest for 10-15 minutes before cutting and serving.
Notes/Tips
I grease the parchment paper with a little coconut oil, this makes it easier to remove it from the paper. 
The batter will be very liquid, but no worries, it will become a cake!
Sometimes I chop some pecan nuts and throw in there too - delicious :)
Enjoy!
3 comments

on 22/10/2014
Delicious and really easy to make! My boyfriend really loved it too and couldn't believe there was no flour OR sugar in there (I even put less maple syrup in, next time I'll try to make it completely without maple syrup!)

Ambre67
on 22/10/2014
Really didn't think it would become a cake, but it did! Oh so good!

Jomarian
on 14/03/2015
Please, what is coconut flour?
You will also like