Top
Chick pea salad
Published 27 Oct 2014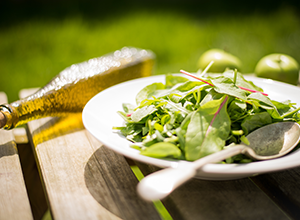 Category : Rich in proteins
Type : Main course
Difficulty : Beginner
Directions : 15 minutes
Cooking time : 0 minute
Price range : Cheap
Ingredients 4 Number of people
400g chickpeas
1/2 cucumber
4-5 tomatoes 
1 red onion
1 bell pepper 
Vinaigrette:
3 tbsp olive oil
2 tbsp red wine vinegar
1 tsp oregano (preferably fresh)
A pinch of salt and pepper
Directions
Drain chick peas.
Chop veggies in bite size pieces and mix with chick peas.
Vinaigrette:
Mix ingredients together and pour over the salad.
Notes/Tips
I sometimes add a little garlic to the vinaigrette and some feta cheese to the salad. Great, filling side dish.